September 6 used to be a very hot day in the U.S., but temperatures have plummeted over the past 120 years.
Over the past 15 years, there has been very little 100-degree weather on September 6, but prior to 1960, 100-degree days were quite common on this date.
On September 6, 1925, most of the southeast US was over 100°F. Tennessee was 111°F, Arkansas was 110°F, Alabama and Mississippi were 109°F, Illinois, Kentucky and Missouri were 108°F, Kansas and Louisiana were 107°F, Indiana and Oklahoma were 106°F.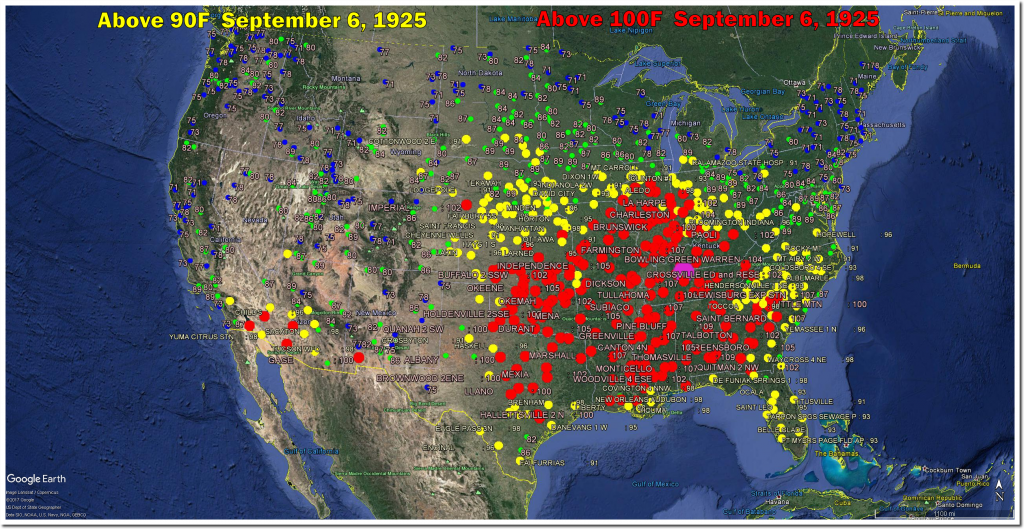 Compare vs the very cool weather of September 6, 2016 – NASA's official Hottest Year Ever ™.
These were temperatures on September 6, 1925.
CLARKSVILLE WWTP               TN  111
PINE BLUFF                      AR  110
TALLADEGA                       AL  109
THOMASVILLE                     AL  109
BRINKLEY                        AR  109
NEWPORT                         AR  109
KOSCIUSKO                       MS  109
DU QUOIN 4 SE                   IL  108
HOPKINSVILLE                    KY  108
MOORHEAD                        MS  108
UNIVERSITY                      MS  108
WATER VALLEY                    MS  108
CARUTHERSVILLE                  MO  108
SAINT BERNARD                   AL  107
BUCKEYE                         AZ  107
POCAHONTAS 1                    AR  107
PRESCOTT 2 NNW                  AR  107
SUBIACO                         AR  107
ANNA 2 NNE                      IL  107
MCLEANSBORO                     IL  107
FT SCOTT                        KS  107
BASTROP                         LA  107
CALHOUN RSCH STN                LA  107
PLAIN DEALING                   LA  107
BATESVILLE 2 SW                 MS  107
BOONEVILLE                      MS  107
CLARKSDALE                      MS  107
COLUMBIA                        MS  107
GREENVILLE                      MS  107
MONTICELLO                      MS  107
STATE UNIV                      MS  107
FARMINGTON                      MO  107
DICKSON                         TN  107
LEWISBURG EXP STN               TN  107
MURFREESBORO 5 N                TN  107
MARSHALL                        TX  107
UNION SPRINGS 9 S               AL  106
CONWAY                          AR  106
CORNING                         AR  106
MENA                            AR  106
BRAWLEY 2 SW                    CA  106
W PT                            GA  106
HARRISBURG                      IL  106
PALESTINE                       IL  106
WASHINGTON 1 W                  IN  106
ST JOSEPH 3 N                   LA  106
BROOKHAVEN CITY                 MS  106
CANTON 4N                       MS  106
HERNANDO                        MS  106
LOUISVILLE                      MS  106
JEFFERSON CITY WTP              MO  106
MARBLE HILL                     MO  106
TAHLEQUAH                       OK  106
JACKSON EXP STN                 TN  106
MC MINNVILLE                    TN  106
UNION CITY                      TN  106
GREENSBORO                      AL  105
TROY                            AL  105
MAMMOTH SPRING                  AR  105
MT VERNON                       IN  105
PRINCETON 1 W                   IN  105
INDEPENDENCE                    KS  105
SEDAN                           KS  105
ABERDEEN                        MS  105
NATCHEZ                         MS  105
WAYNESBORO 2 W                  MS  105
CLINTON                         MO  105
CLAREMORE 2 ENE                 OK  105
DURANT                          OK  105
KINGFISHER                      OK  105
MEEKER 5 W                      OK  105
NEWKIRK 5NE                     OK  105
OKEENE                          OK  105
WEBBERS FALLS 5 WSW             OK  105
DOVER 1 W                       TN  105
NEWPORT 1 NW                    TN  105
TULLAHOMA                       TN  105
WAYNESBORO                      TN  105
CLARKSVILLE 2NE                 TX  105
GREENVILLE KGVL RADIO           TX  105
BARTLESVILLE F P FLD            OK  105
FAIRHOPE 2 NE                   AL  104
SELMA                           AL  104
BLYTHE                          CA  104
HAWKINSVILLE                    GA  104
ROME                            GA  104
CHARLESTON                      IL  104
HILLSBORO                       IL  104
MT VERNON 3 NE                  IL  104
OLNEY 2S                        IL  104
PANA                            IL  104
WINDSOR                         IL  104
DELPHI 2 N                      IN  104
COLUMBUS                        KS  104
MEDICINE LODGE                  KS  104
AMITE                           LA  104
CRYSTAL SPGS EXP STN            MS  104
ARDMORE                         OK  104
OKMULGEE WTR WKS                OK  104
COVINGTON 3 SW                  TN  104
ANTHONY                         KS  104
BOWLING GREEN WARREN CO AP      KY  104
HIGHLAND HOME                   AL  103
VALLEY HEAD                     AL  103
EASTMAN 1 W                     GA  103
TALBOTTON                       GA  103
CARLINVILLE                     IL  103
DECATUR WTP                     IL  103
MINONK                          IL  103
SPARTA 1 W                      IL  103
WHITE HALL 1 E                  IL  103
BEREA COLLEGE                   KY  103
CAVE RUN  LAKE                  KY  103
GREENSBURG                      KY  103
LEITCHFIELD 2 N                 KY  103
SHELBYVILLE 1 E                 KY  103
ALEXANDRIA                      LA  103
HATTIESBURG 5SW                 MS  103
PORT GIBSON 1 NE                MS  103
WOODVILLE 4 ESE                 MS  103
APPLETON CITY                   MO  103
DONIPHAN                        MO  103
LAMAR 7N                        MO  103
LEBANON 2W                      MO  103
MEXICO                          MO  103
MTN GROVE 2 N                   MO  103
STEFFENVILLE                    MO  103
HENNESSEY 4 ESE                 OK  103
HOLDENVILLE 2SSE                OK  103
JEFFERSON                       OK  103
MIAMI                           OK  103
MUSKOGEE                        OK  103
OKEMAH                          OK  103
BLACKVILLE 3 W                  SC  103
CROSSVILLE ED & RESEARCH        TN  103
AJO                             AZ  102
MILLEDGEVILLE                   GA  102
NEWNAN 7 WNW                    GA  102
QUITMAN 2 NW                    GA  102
WARRENTON                       GA  102
WASHINGTON 2 ESE                GA  102
HOOPESTON                       IL  102
LA HARPE                        IL  102
PONTIAC                         IL  102
PAOLI                           IN  102
MCPHERSON                       KS  102
JENNINGS                        LA  102
ROLLA MISSOURI S&T              MO  102
IMPERIAL                        NE  102
MARSHALL                        NC  102
ADA                             OK  102
BUFFALO 2 SSW                   OK  102
ENID                            OK  102
PAULS VALLEY 4 WSW              OK  102
PAWHUSKA                        OK  102
WINNSBORO                       SC  102
ROGERSVILLE 1 NE                TN  102
MEXIA                           TX  102
PARIS                           TX  102
EUREKA SPRINGS 3 WNW            AR  101
DANVILLE                        IL  101
GALVA                           IL  101
JACKSONVILLE 2E                 IL  101
LINCOLN                         IL  101
PARIS STP                       IL  101
RUSHVILLE 4NE                   IL  101
LAWRENCE                        KS  101
FRANKFORT DOWNTOWN              KY  101
BRUNSWICK                       MO  101
WARRENTON 1 N                   MO  101
ALTUS IRIG RSCH STN             OK  101
GEARY                           OK  101
STILLWATER 2 W                  OK  101
WAURIKA                         OK  101
WEATHERFORD                     OK  101
CALHOUN FALLS                   SC  101
COPPERHILL                      TN  101
BROWNWOOD 2ENE                  TX  101
CORSICANA                       TX  101
DUBLIN 2SE                      TX  101
TEMPLE                          TX  101
WEATHERFORD                     TX  101
LAFAYETTE RGNL AP               LA  101
HOBART MUNI AP                  OK  101
FAYETTEVILLE EXP STN            AR  100
ALBANY 3 SE                     GA  100
MILLEN 4 N                      GA  100
OTTAWA 5SW                      IL  100
GREENCASTLE 1 W                 IN  100
SCOTTSBURG                      IN  100
WHITESTOWN                      IN  100
ASHLAND                         KS  100
COLDWATER                       KS  100
EL DORADO                       KS  100
DONALDSONVILLE 4 SW             LA  100
LAUREL                          MS  100
LOCKWOOD                        MO  100
GAGE                            NM  100
CARNEGIE 5 NE                   OK  100
LAWTON                          OK  100
LITTLE MTN                      SC  100
NEWBERRY                        SC  100
SALUDA                          SC  100
ALBANY                          TX  100
FLATONIA 4SE                    TX  100
HALLETTSVILLE 2 N               TX  100
LAMPASAS                        TX  100
LLANO                           TX  100
QUANAH 2 SW                     TX  100

Read more at Real Climate Science